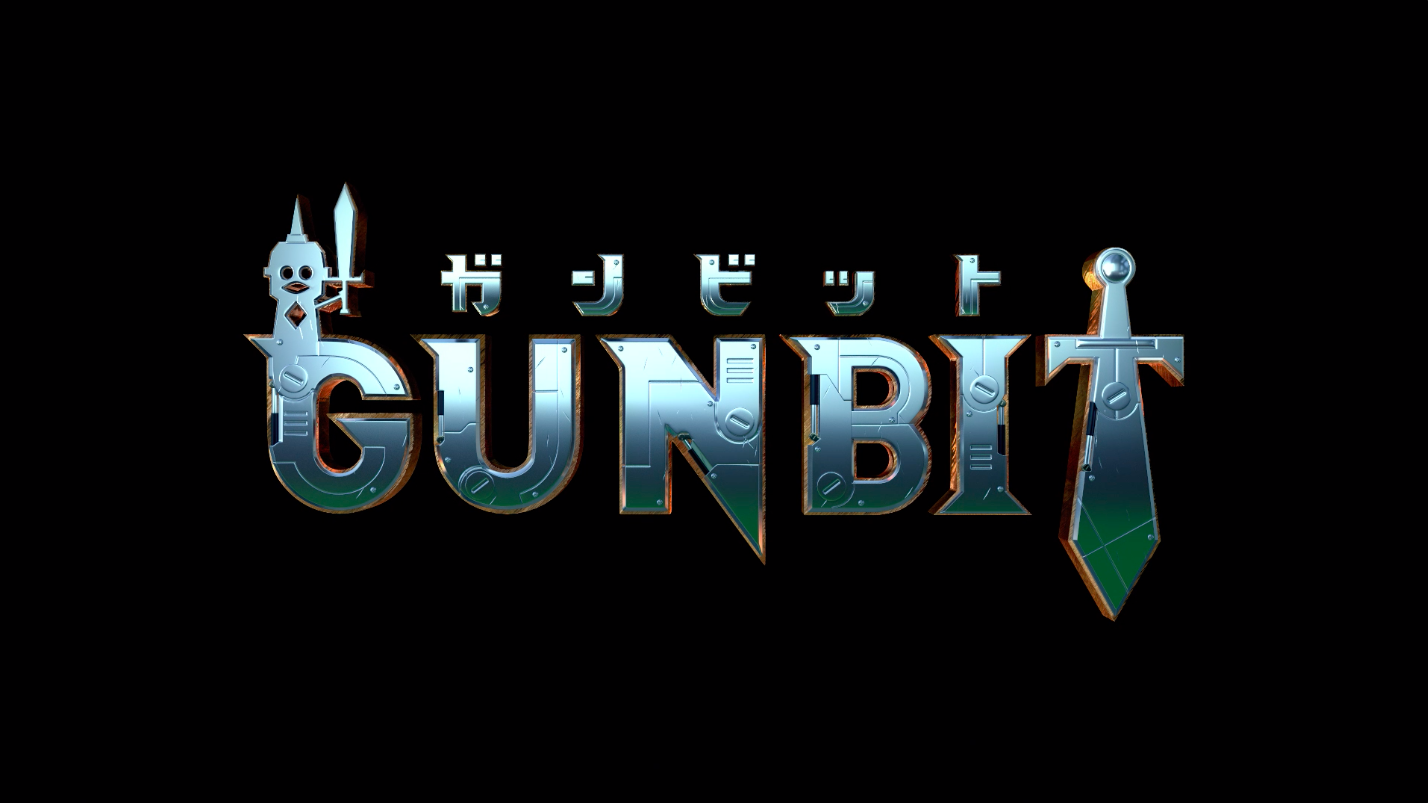 The perfect toy for adults?! Up Close and Personal: Behind the Scenes of the GUNBIT Promo Video (PV)
It was about two years ago when ASOBISM, who are famous for their games such as "Castle and Dragon", asked Ikeda from KOO-KI to make a promotional video for their new game.
Moriyama Studio (ASOBISM) has a strict policy that only the most interesting products can be released, so with that in mind, Ikeda worked together with ASOBISM from the very start of the project.
Finally, the PV has been released along with GUNBIT, ASOBISM's new game service which is currently only available in Japan. It's high-spec, animated, and breathtaking, if we may say so ourselves!
The concept for the PV: Diorama Based Board Game That Gets Grown-ups Excited
"A game where super alloy robots and intricate PVC figures fight on an elaborate diorama. Wouldn't that be SO cool?"
ASOBISM were really passionate about their concept, and we wanted to do that justice in the PV. The video was made bit by bit, with ASOBISM and KOO-KI going over everything from the initial planning to tiny details of animation with a fine-toothed comb.
How can we embody ASOBISM's vision better? 
Without hesitation, Ikeda chose to go to Berlin, Germany.
In Berlin there is a German 3D & CG production, MovieBrats, who KOO-KI has worked with before for promotional films for the food company Gyouza No Oukoku and the department store Marui etc. For Ikeda, MovieBrats is the partner he trusts immensely for 3D & CG production.
His trust comes not just from the creative chemistry, Ikeda and members of MovieBrats are close in age and get along well with each other, but more than anything, "there's no bad guys who love soccer! That's a universal truth," says Ikeda.
In addition, we asked the art director Vito La Manna (ex KOO-KI) to work with us again. Vito co-produced the animatics* with Ikeda, and accompanied him to Germany. Vito played a major part in bringing the team together with Ikeda.
*The word animatics means a video storyboard made at the early stage of production. It's useful to show elements such as the length of each scenes and tempo of the films, things difficult to show in a traditional storyboard. 
Then we asked the leading mechanical model maker, Takehiko Hoashi to join the team.
Takehiko is THE great CG model maker who's behind so many Japanese films. We asked him to model GUNBIT's characters and logo, and he didn't disappoint- his design and texture just slayed.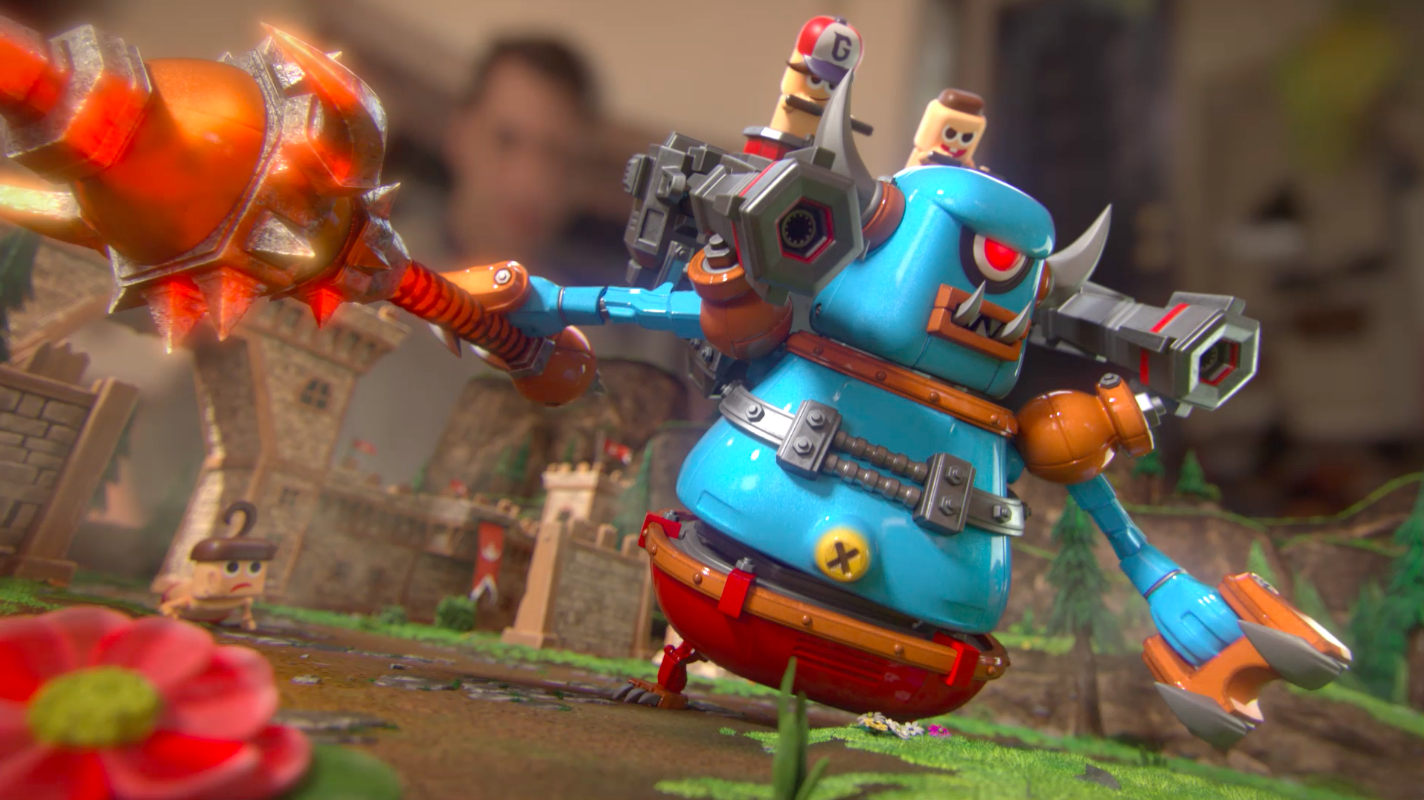 The graphics are so sophisticated! It looks as though that robot made from super alloy is real, but believe it or not, it's all CG.
The music is by GrandFunk.
A top-level company known for its film music for TV commercials and movies, they've previously won a Japanese Academy Award for Original Music Score. The music for GUNBIT's PV was recorded in Bulgaria, making it as much a global effort as the rest of the production.
(By the way, music for the new movie The Fabre directed by Kan Eguchi from KOO-KI is by GrandFunk, too. The film is coming to the theaters on June 21, 2019.)
Team's set. Off we go to Germany.
With animatics in hand, Ikeda flew to Germany to start the 3D & CG production. By flying twice to Germany (at the start and for the final days of the production), he was able to be hands on with talented artists working in Berlin.
A scene from production in Germany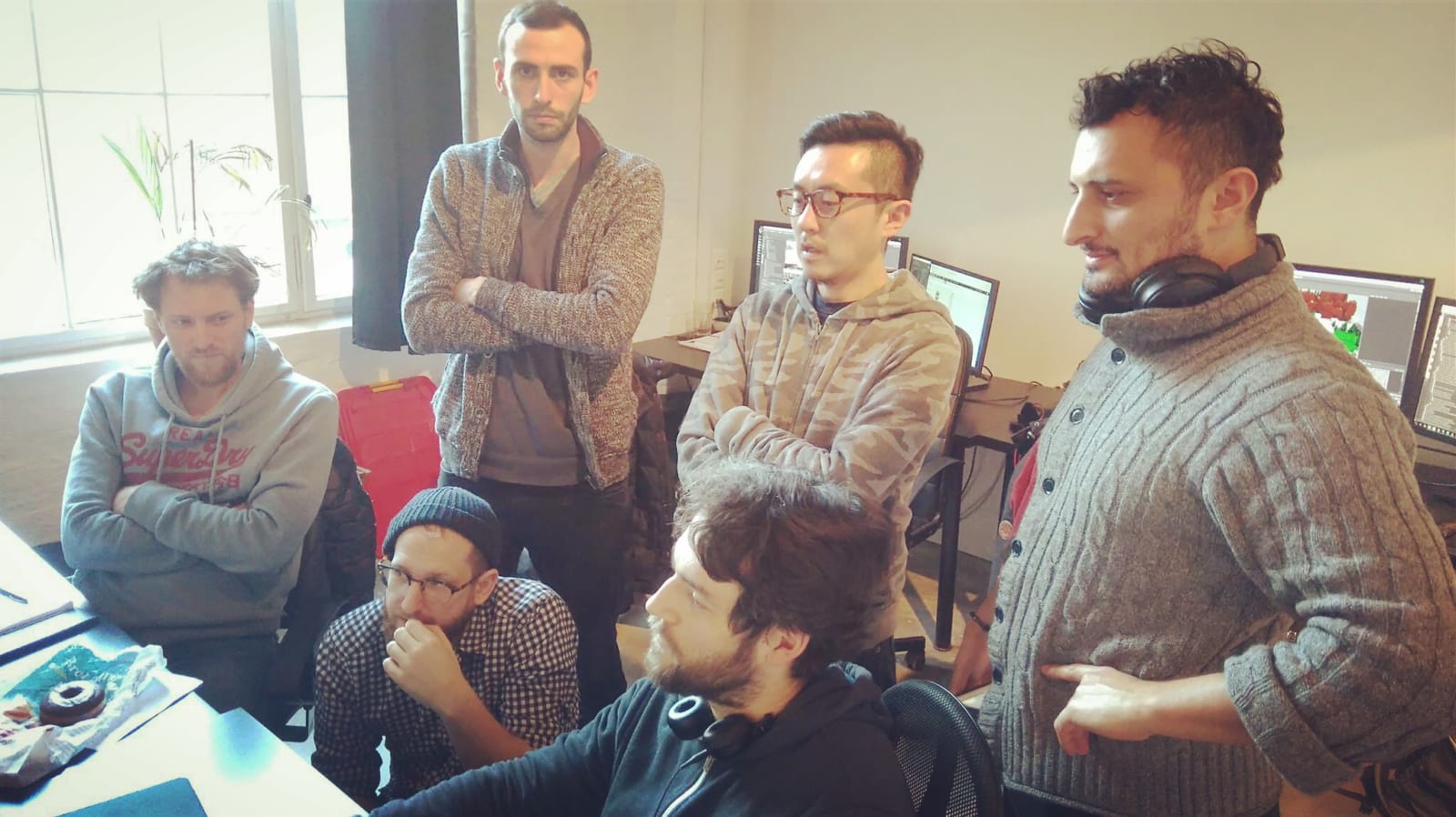 To the far right of the picture is Vito, standing next to him is Ikeda from KOO-KI, and Bjorn from MovieBrats is in the middle at the front. All the others are freelance artists from Berlin. 
Whereas it is more common in Japan to belong to a studio, in Europe and the US it is said to be more common to freelance.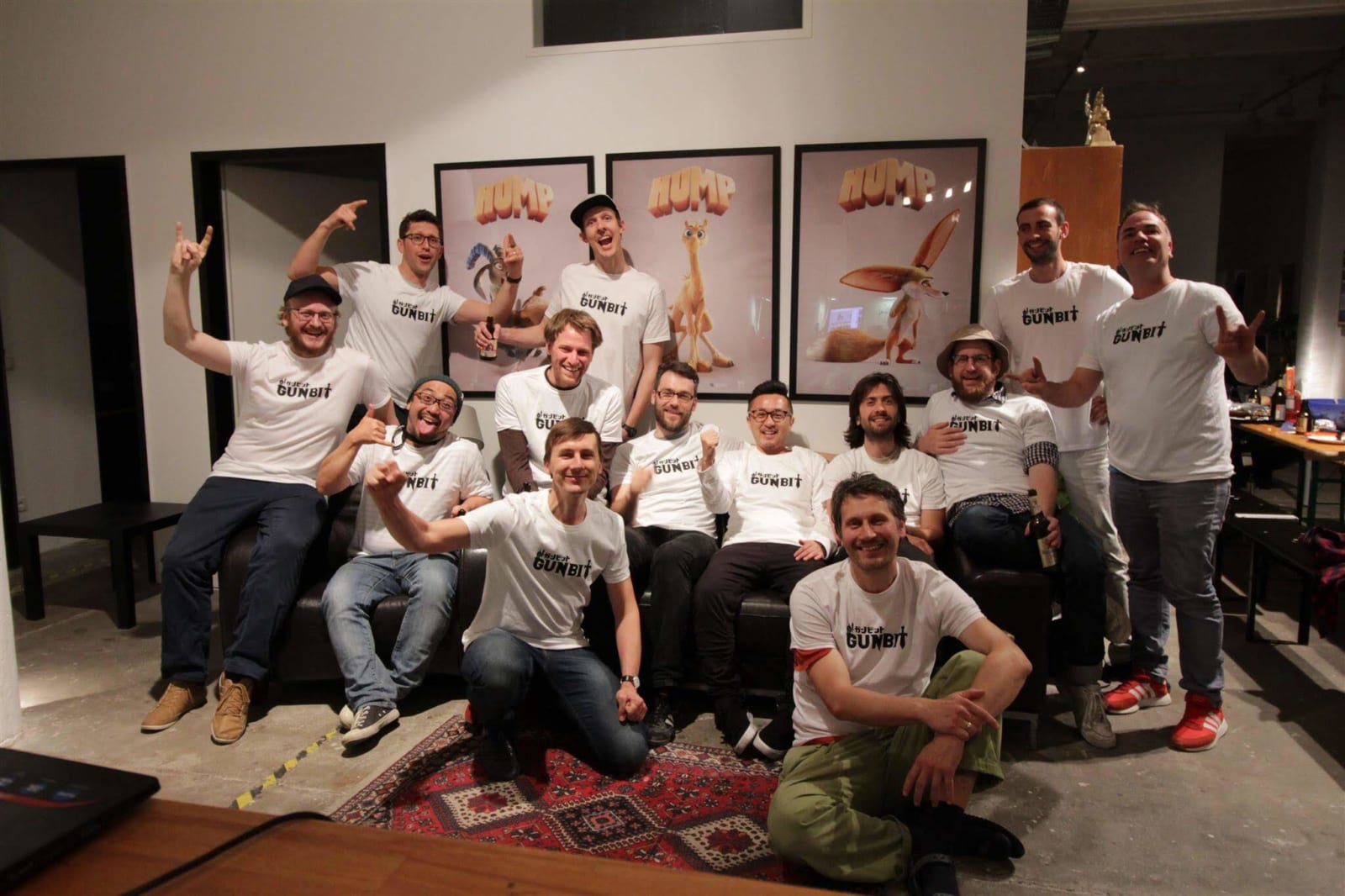 On the last day of our stay in Germany, MovieBrats gave us surprise gift of unofficial GUNBIT themed t-shirts!
For this project, members from KOO-KI flew to Germany twice, staying there for 4 weeks in total. Even after coming back to Japan, Ikeda had daily video chats with artists from all around the world, despite the time differences to make progress on PV production.
We've got an international team of artists from 10 countries in total!
MovieBrats is in Germany, the effect artist for flame and smoke is from Brazil, and so there were significant time differences for everyone involved. There were days Ikeda had video chats in the middle of night. You have to love what you're doing to be that devoted!.
Ikeda's favorite characters are Red Dragon and Cyclops, he said he'd buy them instantly should they become figurines, even with the price tag of thousand dollars each! He's so emotionally involved.
GUNBIT's available in Japan now! Go check it out if your curiosity has been piqued by this post!
KOO-KI created the logo, posters, app icons, title screen at startup and TV commercial for GUNBIT as well as the PV.  
Links
▽GUNBIT's Official Site
▽Works by Kazutaka Ikeda
ーーーーーーー<STAFF>ーーーーーーーーーー
Planning:Asobism、KOO-KI

Director: Kazutaka Ikeda (KOO-KI)

Producer: Kouji Kawahara (KOO-KI)

Art Director: Vito La Manna(DAG)

Co-Production: MovieBrats

Character Modelling: Takehiko Hoashi (studio picapixels)

Music Producer: Hideoki Mogi (GrandFunk)

Music Director: Manato Kemmochi (GrandFunk)

Copy Writer: Ken Okada
DP: Kazuyoshi Koike

Art: Kaori Morita

ーーーーーーーーーーーーーーーーーーーーーー